Plant actin Mouse Monoclonal Antibody(Mix-mA™)

Catalog

XHY187M

XHY187L

Quantity

50µL

100µL
For research use only.
Application: WB
Species Cross-Reactivity: Various Plants
Molecular Weight: N/A
Isotype: IgG
Storage Buffer & Condition: PBS, pH 7.4, containing 0.02% sodium azide as Preservative and 50% Glycerol.
Store : -20°C. Do not aliquot the antibody.
Recommended dilutions: WB: 1:3,000-5,000
Optimal dilutions should be determined by the end user.
Specificity: Antibody can detects endogenous various plants actin protein.
Background: Actin is a highly conserved protein and an essential component of cell cytoskeleton and plays
an important role in cytoplasmic streaming, cell shape determination, cell division, organelle movement and
extension growth. Preferentially expressed in young and expanding tissues, floral organ primordia,developing
seeds and emerging inflorescence. Antibodies against plant Actin are useful as loading controls for
Western Blotting.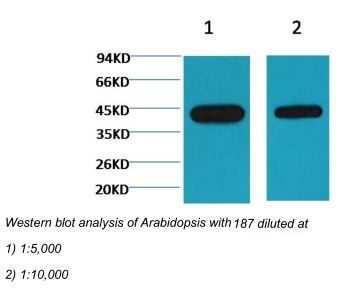 Applications:WB-Western blot IHC-Immunochemistry IF-Immunofluorescence IP-Immunoprecipitation
ChIP-Chormatin Immunoprecipitation
Reactivity: H-Human R-Rat M-Mouse Mk-Monkey Dg-Dog Ch-Chicken Hm-Hamster Rb-Rabbit Sh-Sheep