ABCB5 Mouse Monoclonal Antibody(11A2)

Catalog

XHY099M

XHY099L

Quantity

50µL

100µL
For research use only.
Application: WB
Species Cross-Reactivity: H,
Molecular Weight: 90KD
Isotype: IgG1
Storage Buffer & Condition: PBS, pH 7.4, containing 0.02% sodium azide as Preservative and 50% Glycerol.
Store : -20°C. Do not aliquot the antibody.
Recommended dilutions: WB: 1:2,000
Optimal dilutions should be determined by the end user.
Specificity: ABCB5 Mouse Monoclonal antibody detects endogenous ABCB5 proteins
Background: ATP-binding cassette sub-family B member 5 also known as P-glycoprotein ABCB5 is
a plasma membrane-spanning protein that in humans is encoded by the ABCB5 gene. ABCB5 is an
ABC transporter and P-glycoprotein family member principally expressed in physiological skin and
human malignant melanoma.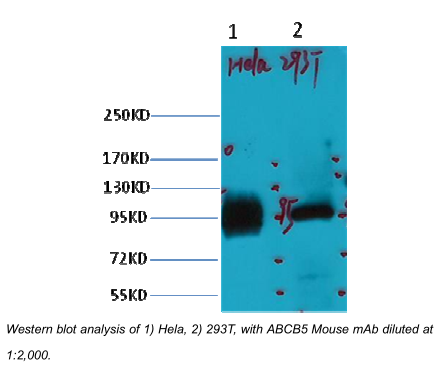 Applications:WB-Western blot IHC-Immunochemistry IF-Immunofluorescence IP-Immunoprecipitation
ChIP-Chormatin Immunoprecipitation
Reactivity: H-Human R-Rat M-Mouse Mk-Monkey Dg-Dog Ch-Chicken Hm-Hamster Rb-Rabbit Sh-Sheep