VSV-G-Tag Mouse Monoclonal Antibody(8D6)

Catalog

XHY006M

XHY006L

Quantity

50µL

100µL
For research use only.
Applications: WB, IP, IF
Species Cross-Reactivity: N/A
Molecular Weight: N/A
Isotype: IgG1
Storage Buffer & Condition: PBS, pH 7.4, containing 0.02% sodium azide as Preservative and 50% Glycerol.
Store : -20°C. Do not aliquot the antibody.
Recommended dilutions: WB: 1:5,000 IP:1:200 IF:1:1,000
Optimal dilutions should be determined by the end user.
Specificity: The VSV-G tag antibody can recognize C-terminal, internal, and N-terminal VSV-G fusion proteins.
Background: Vesicular stomatitis virus (VSV), an enveloped RNA virus from the Rhabdoviridae family, is released
from the plasma membrane of host cells by a process called budding. The fusiogenic envelope G glycoprotein of
the vesicular stomatitis virus (VSV-G) that has been used to pseudotype retrovirus and lentivirus vectors can be
used alone as an efficient vehicle for gene transfer. VSV-G protein is secreted into the culture medium as
sendimentable vesicles from cells transfected with a VSV-G expression plasmid in the absence of other viral
components. The VSV-G vesicles in the conditioned medium can be partially purified by pelleting through sucrose
cushion ultracentrifugation.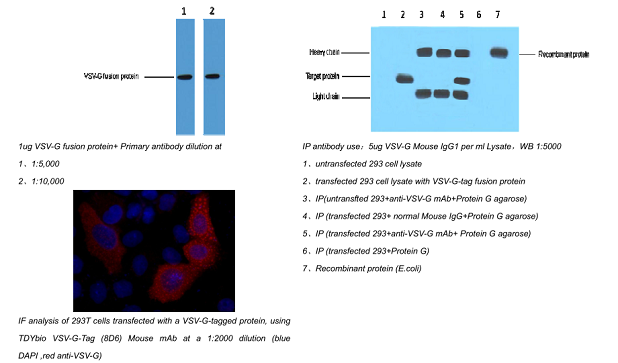 Applications:WB-Western blot IHC-Immunochemistry IF-Immunofluorescence IP-Immunoprecipitation
ChIP-Chormatin Immunoprecipitation
Reactivity: H-Human R-Rat M-Mouse Mk-Monkey Dg-Dog Ch-Chicken Hm-Hamster Rb-Rabbit Sh-Sheep